Daniel Tousignant is well known throughout the San Francisco design industry for his expertise and extensive knowledge of antique rugs. He is also known worldwide as a very successful fine art painter and has recently enjoyed enormous growing popularity for both his painting and etched glass sculpture. "Looking at the work of San Francisco artist and gallery owner Daniel Tousignant is like staring at a freeze frame of the best dream you've ever had and the effect is a sudden wash of chest-clutching happiness." States Metropolitan Magazine
Daniel's painting exhibit both a bit of the fantastical and the realistic. Compare his American Landscape, 2010 and a piece from his Whitefield collection.
A high honor, Daniel was also asked to participate in the prestigious San Francisco General Hospital Foundation (SFGHF) Hearts in San Francisco series – an annual public art exhibition that raises funds to support life-enhancing programs at San Francisco General Hospital and Trauma Center. His installation was located in Union Square!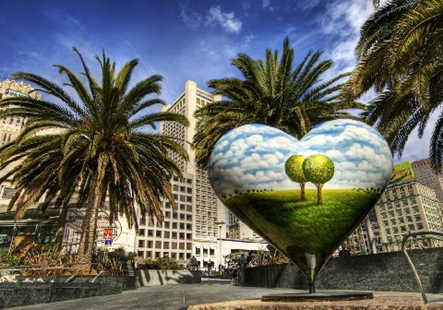 If you'd like to see more of Daniel Tousignant's art pieces, along with other artists he represents, check out the website he and his partner have at: www.gtfineart.com or better yet, visit their gallery at:
Geras-Tousignant Gallery
437 Pacific Avenue
San Francisco, CA 94133
415-986-1647
Perhaps a new an art piece can be the center point for a new interior in your home or office, let me know.