Within the design industry few manufactures have contributed as much to design inspirations as 3form. They have three companies under one roof. First, their 3form company Working with resin and polycarbonates, 3form products are a dream for interiors.
Let the imagination soar and work with 3form to create partitions, sliding doors, countertops, lighting, seating, shelving, table tops, art features and beyond.
Second, is Studio by 3form which offers dimensional profile panels. Third, LightArt, a collection of LED light fixtures that can work in health care, residential and commercial settings.
In our recently completed project of a Sports Performance for Young Athlete's center for Children's Hospital Oakland's Walnut Creek Campus we used 3form's Varia "Paper Cut" as a partition between the waiting room and therapy area. We also used the 3form Chroma in "Vita C" for countertop.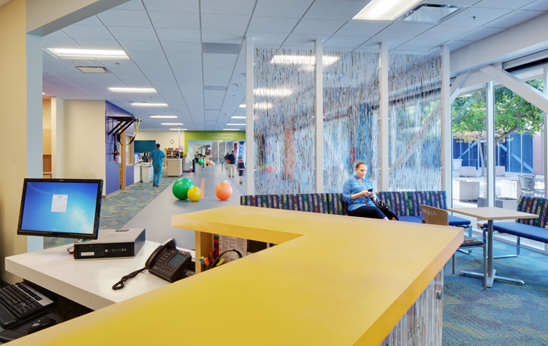 We look forward to creating many more interesting and unique projects using this awesome product!